A History of Sustainability
Beginning in 2007 Hoffer Plastics implemented a facility wide recycling program. The focus of this program was to eliminate all manufacturing waste from going to the landfill. Hoffer's Executive Management Team supported this initiative which involved employees from all departments.
In 2021, less than 1.5% of the 25,000,000 lbs of manufacturing resin ended up in the landfill. The company wide initiative institutionalized a culture of enhanced corporate sustainability. This corporate culture has helped spur on many innovative and cost saving ideas from employees. Capital saved from these projects has allowed the organization to reinvest in other areas allowing it to be one of the leaders in our industry.
Scrap Separation and Recycling
All plastic is segregated by type including any floor sweepings or contaminated materials.  In 2021, we used 25,000,000 lbs of material and sent less than 1.5% to the landfill.
The engineering team identified the most voluminous polymer used in our manufacturing process and created a separate collection system for the machines running that material. Now that this scrap is acceptable for recycling, we no longer need to have the trash compactor picked up each week. Instead we have worked with the garbage company to have the compactor picked up on an on-call basis.
We estimate the annual impact of this system change to be 350,000 pounds of material diverted from landfill.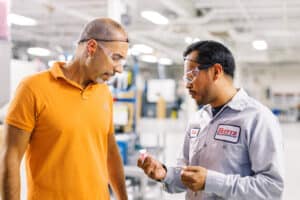 Custom molder to showcase full range of injection molded caps, closures and fitments for flexible and rigid solutions at Pack Expo booth N11308 Sustainability is in Hoffer Plastics' DNA. So is meeting customer needs for safety, product functionality and aesthetics. Through its Lok™ family of closures, which will be on display at booth N11308 at…
Read More

→