Reduce. Reuse. Recycle. Rethink.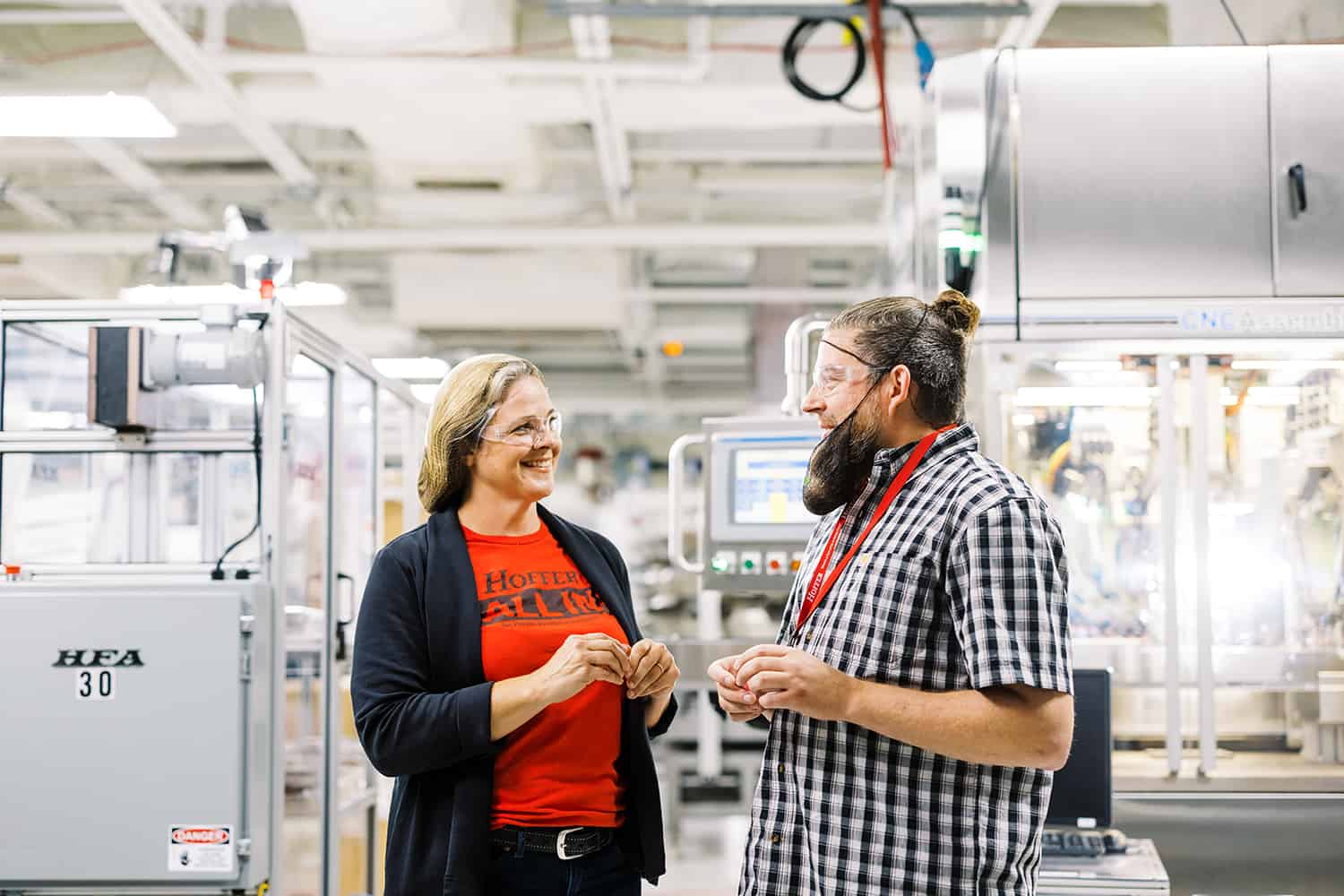 How Hoffer Plastics Is Setting New Standards of Sustainability in Plastics
How can we use less material? How can we use it more effectively? How can we give plastics a new life? As a plastics processor, we must keep these questions front and center.
It's about the future of our company, our community and our planet. At Hoffer Plastics, we believe we can play an important role in creating critical solutions that support environmental sustainability today and for generations to come.
Innovative leaders are calling for the manufacturing industry to take action on plastic waste, and we're all for it. After all, we've been leading the way on this challenge for decades. Here's a closer look at how we include environmental stewardship and sustainability in every move we make.
Creating Sustainable Solutions for Customers
Through smarter design and process optimization, Hoffer Plastics always seeks opportunities to work with customers on initiatives that use less material and reduce our collective environmental footprint.
Lightweighting
Reducing product weight is one of the ways simply choosing plastics over other materials can actually make products more sustainable. A conversion from metal to plastic, for example, can lessen energy consumption, fuel usage and waste while creating a long-lasting, functional solution.
Conversely, for existing plastic products or part designs, we can go further. By streamlining the design to take excess material out wherever feasible, we're able to eliminate unnecessary excess materials from the start. Lowering the volume of plastic in your products through the elimination of unnecessary features, or simply finding a better design that can still be manufactured well can reduce manufacturing costs and eliminate end-of-life disposal issues.
Read more in this Design News article co-authored by Millie Nuno, Hoffer Plastics Vice President of Sales and Brian Beringer, Hoffer Plastics Director of Engineering
This approach yields benefits that extend beyond making a more energy-efficient product. It also improves performance and functionality, while reducing manufacturing costs.
Focusing on Landfill Diversion
Our expert engineering team works with customers to help design parts and processes for their products that:
Replace virgin plastic with recycled materials, which helps divert plastic waste from landfills and oceans where possible.
Incorporate biodegradable resins, which have a lower carbon footprint compared to producing new plastics from scratch.
Create and contribute to a circular economy through the re-use of recycled materials to eliminate waste and carbon emissions by keeping plastic materials in-use for as long as possible. Where feasible, we focus on eliminating waste through the regrind of scrap to be put back into the injection molding process.
Encourage consumer recycling, through innovations such as our Lok™ family of products – patented closures for the growing grab-and-go market. Where feasible, Lok™ products feature mono-materials and tethered cap options that facilitate recycling.
Being an Environmentally Responsible Industry Partner and Neighbor
Just as important as the plastic parts we produce is the way we produce them. Hoffer Plastics continues to closely examine our operations and innovate ways to reduce our environmental impact and protect our community.
Reducing Water Use
As a plastics processor, our operations depend heavily on water. Because of that, it is our collective responsibility to identify improvements for more responsible water usage.
At Hoffer Plastics, our production plant deploys advanced in-line filtration and water treatment programs that reduce corrosion in water towers and keep hazardous materials from the water supply. By employing these techniques to safeguard the quality of our own water supply, we are ensuring effective cooling of our injection molding machines, enhancing process efficiency and ensuring the production of good, quality parts. As a bonus, these upgrades also allowed us to re-capture flushed water and reuse it in cooling towers (with all initiatives leading to an overall 50% reduction in water usage!).
We continue to explore additional opportunities to reduce water utilization and improve water quality for our employees and our neighbors (stay tuned!).
Cutting Material Waste
In the face of the ever-changing landscape of sustainability, the role of a custom manufacturer's impact on the plastics industry is under increasing amounts of scrutiny.
Like any injection molder, our robust operation uses plenty of plastic materials. However, it is a priority to divert as much as possible from the landfill. For example, scrap separation – including any floor sweepings and contaminated materials – combined with a company-wide commitment to our recycling initiatives help us divert 350,000 pounds of material annually from landfills.
Beyond our own material waste, we also evaluate product end of life to ensure recyclability and responsible disposal. For example, we have lightweighted our Lok™ caps and spouts to eliminate materials in the end product in addition to ensuring recyclability. We've also ensured that our caps and spouts maintain the barrier requirements necessary to reduce food waste and CO2.
Saving Energy
We're working to minimize our company's carbon footprint through a variety of ongoing initiatives and technologies. Over the last six years, we have decreased our carbon emissions by approximately 23% through upgrades that include:
On-site co-generation – Increasing energy efficiency, cost savings and our ability to relieve the local and national power grid if necessary.
High-efficiency lighting – Saving 1,744,627 kWh per year, or 1,203 metric tons of CO2.
Variable frequency drive motors – Saving 161,518 kWh per year, representing approximately 1,002 metric tons of CO2.
Compressed air system improvements – replaced critical components of the plant's compressed air system to save 1,453,303 kWh per year or 111 metric tons of CO2.
Thermal blankets for injection molding machine barrels – Insulated barrels within injection molding presses to conserve energy and better regulate working temperatures to save 531,504 kWh per year.
Energy efficient equipment – implemented initiatives including chillers, material dryers, rooftop heating and cooling units, regular compressed air leak repairs and more equating to 30% reduction in electrical consumption over the past 5-and-a-half years.
And more!
Join Us in Building a Culture of Sustainability
Across our company, the people of Hoffer Plastics continue to accelerate our environmental initiatives. Each advancement inspires new resource-saving ideas from our employees. The capital we save from these projects frees us to reinvest in further innovations for our customers, our industry and our planet.
How can we help you rethink your sustainable impact? We invite you to partner with us as we continue to lead the plastics manufacturing industry toward a sustainable future. Learn more.