Hoffer Plastics to Host "Feed Your Future" Job Fair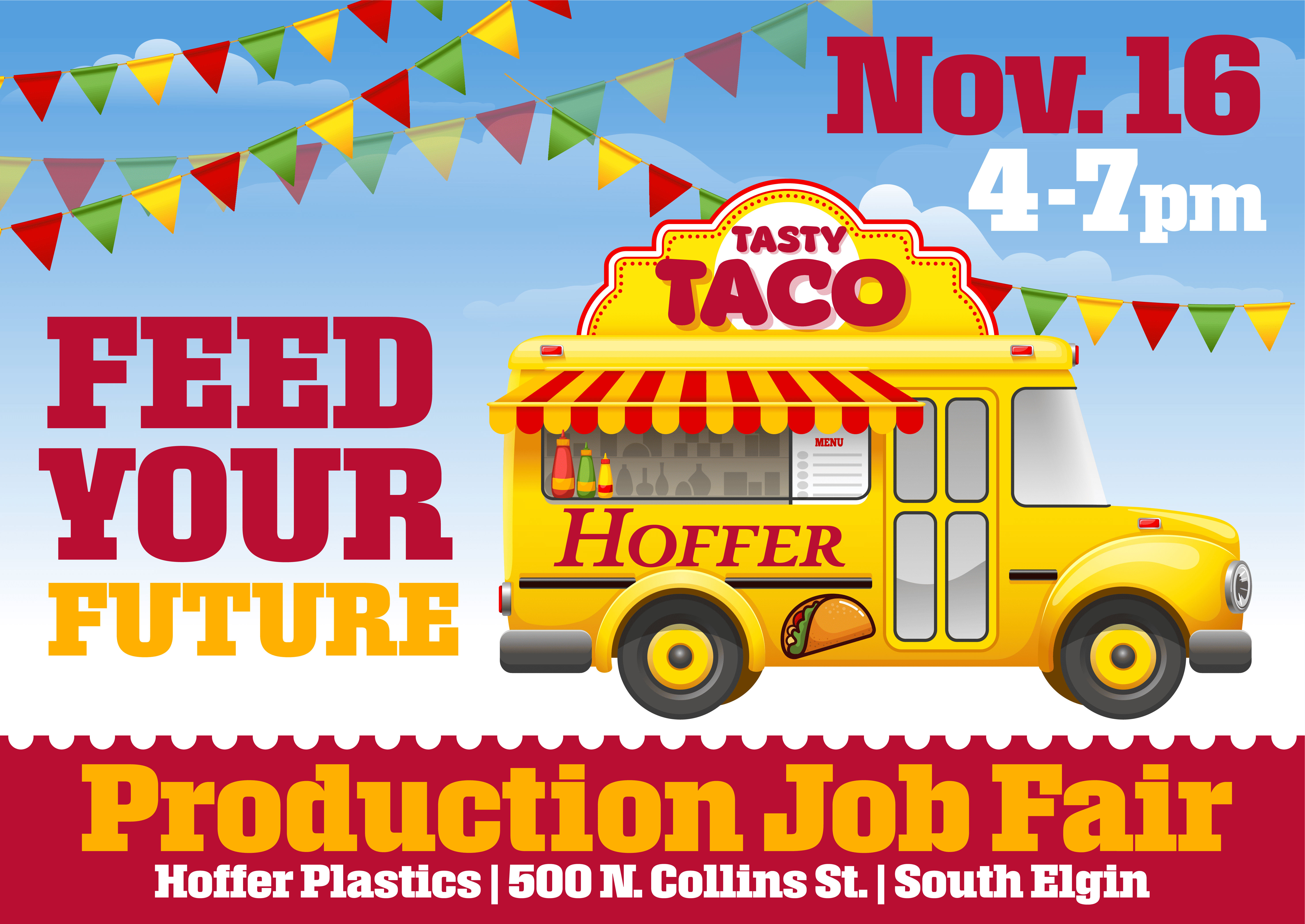 Hoffer Plastics (or the "Company"), a leading provider of custom injection molding solutions, is pleased to announce its 'Feed Your Future' Production Job Fair on Thursday, November 16 from 4:00 to 7:00 p.m. The Company will be hosting the fair at its South Elgin facility, 500 N. Collins St.
The Job Fair is designed to give prospective employees a behind-the-scenes look at Hoffer Plastics while interviewing the same day. Attendees will have the opportunity to engage with the Hoffer Plastics' Human Resources team for a 15-minute interview. Applicants may then have the opportunity to explore the facility by walking the plant floor and meeting with a Hoffer Plastics' Plant Manager. Upon completion of their interview(s) and tour, attendees will receive three vouchers redeemable for a taco from the on-site taco truck that Hoffer Plastics is bringing to its facility for the event.
"By providing access to stable and exciting long-term careers in manufacturing, we are not just creating jobs; we are building pathways to success for individuals in our community," said Shari Nelson, Hoffer Plastics' Director of Human Resources. "From entry-level positions to highly skilled roles, we provide individuals with opportunities for continuous learning and professional growth in an advanced, sophisticated and engaging environment."
At Hoffer Plastics, the belief in nurturing talent, fostering growth, and empowering the next generation of leaders in the manufacturing industry has been a guiding principle across generations of family leadership. Rooted in this commitment is a dedication to redefining the narrative around manufacturing careers. Contrary to the perception of traditional manufacturing roles, Hoffer Plastics proudly offers roles that are at the forefront of technology advancements, housed within a state-of-the-art facility, and that demand a skillset firmly rooted in STEM disciplines. As an integral part of the company's continued commitment to giving back, the "Feed Your Future" Job Fair aims to provide individuals a chance to pursue career advancement within a dynamic, high-tech work environment that is actively shaping the future landscape of the manufacturing industry.
Beyond this event, the Company remains deeply committed to fostering a brighter future within the community. This commitment is exemplified through the Hoffer Foundation and the dedication of individual Hoffer family members, who actively contribute to a wide array of educational initiatives. These initiatives are centered around the principles of accelerating learning, acquiring knowledge, instilling values and nurturing virtues as essential elements for achieving success. From robust apprenticeship programs, leadership development opportunities, on-site summer job opportunities and more, Hoffer Plastics continues a 70-year tradition of developing manufacturing's next generation of leaders.
For those interested in attending the job fair, there is no registration required. Interested applicants should bring their resume and be prepared to network with the Hoffer Plastics team. For more information about career opportunities at Hoffer Plastics, please visit https://hofferplastics.com/careers/.