Hoffer Plastics Expands Family Leadership Roles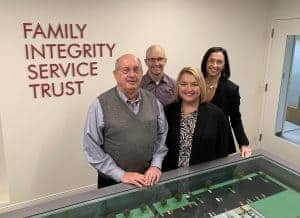 SOUTH ELGIN — Hoffer Plastics Corporation, an industry leader and innovator in the custom injection molding industry, recently announced that CEO William Hoffer will take on a new role as Chairman of the Board effective January 1, 2020. These changes come on the heels of promotions for the third generation of Hoffer family leadership: Gretchen Hoffer Farb, Charlotte Hoffer Canning, and Alex Hoffer, collectively known as "G3" — or "third generation."
William is the second CEO of the company's 66-year history. His father, Robert Hoffer, founded the company in 1953 and served as CEO for over four decades. The company will continue to be run by the Hoffer Family, as it has been since its founding.
Gretchen Hoffer Farb will be named Chief Financial Officer with responsibility for overseeing the company's financial accounting, management, and reporting functions. She'll also have responsibility for supply chain and procurement, information technology, and environmental sustainability. Gretchen will continue to oversee the Hoffer Foundation, the company's main philanthropic entity that provides funding and support for local and national community service, cultural, and educational organizations.
Charlotte Hoffer-Canning will be named Chief Culture Officer. In her new role, Charlotte will oversee human resources, facilities management, and marketing, the latter encompassing all key internal and external communications. Charlotte will also take on responsibility for community outreach, where she'll play a key role in building and fostering strong partnerships with local resources and organizations in the South Elgin community.
Alex Hoffer will be named Chief Revenue Officer. His expanded role includes sales management, innovation, and product development, and customer service. He will also have responsibility for all key technical functions that enable the company's legacy of delivering outstanding service and delivery to customers, including manufacturing, automation, tooling, and maintenance.
William Hoffer said, "I couldn't be prouder of what our entire Hoffer employee family has achieved together over the last 66 years and look forward to a very promising future for the company. As I step into a more strategic role in overseeing the company, I will continue to coach and support our next generation of leaders — my three children — in their expanded roles. My father guided the company's expansion throughout the U.S. and globally while establishing a strong legacy in environmental sustainability, community service, and philanthropy. Now, it's Gretchen, Charlotte, and Alex's turn to continue the legacy."
###
About Hoffer Plastics Corporation:
In 1953, after following a successful corporate career in manufacturing, Bob and his wife Helen Hoffer set out to create a business that was focused on service to others: putting the needs of customers, employees, and the community first. They believed that by doing so, successful business and financial results would naturally follow. Sixty-six years later, it turns out they were right. Hoffer Plastics has grown to become an industry leader and innovator in the custom injection molding industry.
Today, Hoffer Plastics Corporation employs more than 350 people in our 365,000-square-foot facility across 24 acres where it produces more than three billion plastic parts annually and ships to countries around the globe. Hoffer has a consistent 99% on-time delivery record and has pioneered numerous product innovations — including the Trust-T-Lok line of safety closures for flexible pouch packages. Over the years, Hoffer is proud to have been honored with several awards —including "Family Business of the Year," Plastic News "Processor of the Year," and in 2016, the Illinois Governor's Sustainability Award.