Taming the "Lions" —A Simple Approach to Managing Risk
Make Risk Management part of annual and long term planning
Select a cross functional team to:

Identify Risks

Try "What if" scenario analyses or "War games" sessions
Great fun and great for team building

Analyze and quantify risks

Simple spreadsheet: list, number, describe and quantify the impact of the risk

Develop action plans for the most critical risks. The goal is mitigation – "lion taming."
Regularly track, update and report on status
Keep it Simple
Risk management doesn't have to be an all-consuming process, and not all risks need actions.
Try this simple tool for plotting and prioritizing risks that your team has identified:
Proactively address the green box ("Lions") and ignore the reds ("Lambs").
Monitor the yellows and re-prioritize if things change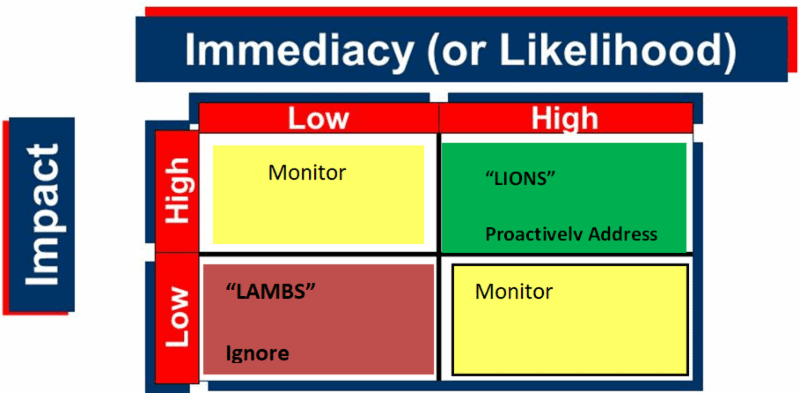 Source: Strategic Market Management, David A. Aaker, 10th Edition
A Few Examples: ERM (Enterprise Risk Management) in Action:
U.S. soft drink companies saw the long term decline in carbonated soda consumption as a critical risk to their core businesses.
They proactively acquired and built non-carbonated beverage portfolios (waters, teas, juices, energy drinks) which have continued to deliver strong growth.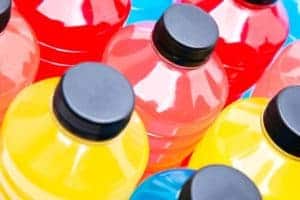 Coca-Cola partnered with local community resources to address the challenge of distributing its products to remote areas of the globe.
Since 2012, Coca-Cola's "Project Last Mile" has delivered a broad range of vaccines, medicines and medical supplies—alongside Coke products—to millions.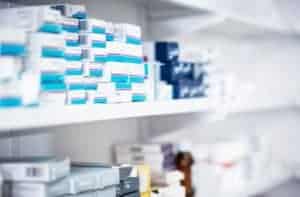 A decade ago, GE faced heavy public criticism and fines regarding its track record and history of environmental issues. The company saw this as a critical long term risk—but also an opportunity.
GE created and launched its Ecomagination line of environmentally friendly products, now a multi-billion dollar business segment. (Source: AICPA)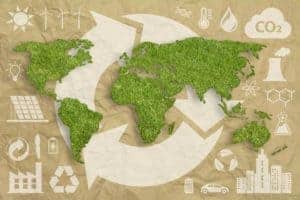 Hoffer Plastics Corporation identified the long term risk of weather related power outages in the Midwest—a clear High Impact, High Likelihood "Lion."
Hoffer's founder invested in an onsite power co-generation plant that can also provide electricity to the surrounding community in the event of an emergency.